HP New (T9E85AA) 30 Managed Laptop / Tablet Charging Cart V2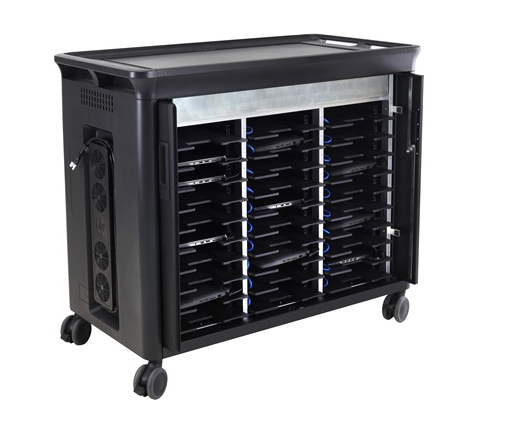 Stock Code
HPRN5453
Manufacturer
3 Available
You must be logged in to view pricing and place orders
Product Description
HP New (T9E85AA) 30 Managed Laptop / Tablet Charging Cart V2
NEW & BOXED Locking rolling managed charging cart for up to 30 laptops or tablets.
Simplify system updates
Keep up to 30 notebooks and tablets updated and charged in environments such as education, hospitality, and more with the HP 30 Mgd Charging Cart V2, a sturdy, lockable rolling cart designed to securely house, charge, and push software updates simultaneously.
Charge up in a flash
Recharge PCs with Power Shuttle 2.0, which scans and distributes power to charge your devices. LED indicators are easy to read, and venting and four fans keeps devices cool. Charge extra devices outside the cart with two auxiliary outlets.
Lock it up
Secure your notebooks and tablets in the main compartment behind lockable doors and covers, and IT equipment and power adapters in a second, separate, lockable compartment.
Easy to customize
Find the perfect fit with an open architecture and removable, smooth-edged shelves that accept notebooks and tablets up to 15.6 inches diagonal. Cable management clips keep Ethernet and device power cords tidy and out of the way.
Use it anywhere
Move the cart between offices, classrooms, and more with integrated hand grips and four swiveling, lockable casters. Then park the cart, fold the retractable doors back into the unit, and load and unload your devices as needed.
Dimensions: 123.5 x 63 x 106 cm

Weight: 91.618 kg