Bullguard Internet Security 2021 for Windows PCs, 3 Devices, New, OEM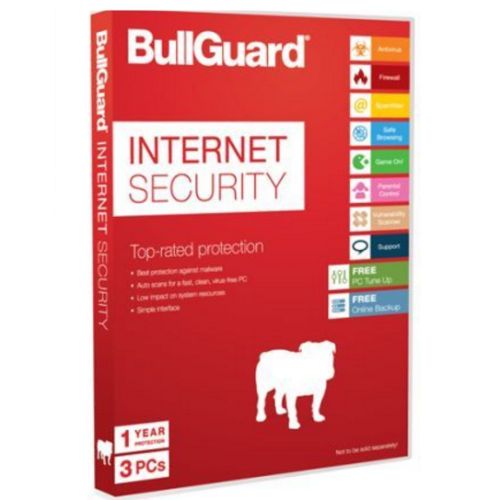 Stock Code
SW030
Manufacturer
24 Available
You must be logged in to view pricing and place orders
Product Description
Bullguard Internet Security 2021 for Windows PCs, 3 Devices, New, OEM
Why choose BullGuard Internet Security?
BullGuard Internet Security delivers the best security tools to simply protect you from all online threats:
•
Award-winning technology with multiple protection layers for superior virus catch rates - as testified by independent labs
•
Elegantly simple interface makes management of your security easy
•
Free 100MB of advanced backup to keep your most important data, photos, music and more, safe and to easily share them
•
Easy-to-use and powerful Parental Control keeps your kids safe from cyber bullying and predators
•
Fast access to everything you need directly from the main interface
•
3-PC licence and FREE upgrades to new versions
High Revenue Share
Earn REAL revenue on all upgrades and renewals. Every time a customer upgrades or renews their BullGuard subscription, a good percentage of what they pay is yours.
Key features:
Antivirus. Effectively catches all viruses.
Our AntiVirus includes Behavioural Detection, which spots new viruses because of the actions they take on your computer and stops them before they can do damage. Together with Signature-based Detection, which identifies the 'signatures' of known malware, you gain a multi-layered defence system for your PC that's virtually impenetrable. Top detection rates of viruses and malware have been proven by independent labs.
Powerful Parental Control. Protect without nagging.
BullGuard Parental Control is a powerful and easy-to-use tool that helps you protect your children online. You can block access to suspicious websites, put search filters in place, limit their time online and even monitor their activity. It keeps your children safe from cyber bullying and stops them being exposed to inappropriate content. It gives you peace of mind.
Advanced Backup. Easily back up, recover and share files.
We've included 100MB of FREE online storage so you can keep your important data, photos, music and more safe. You can choose what you want to back up and how often, or just set the feature to auto backup. You can even back up content directly from folders with one click. And here's more: your back-up data is easily accessible whenever you want to view it or restore it to another computer or even your smart phone.
Firewall. Keep out intruders.
Protect your computer from unwanted hackers and identity thieves with this first line of defence. The firewall protects you against network attacks and prevents cyber crooks from entering your system.
Spamfilter. No spam. No scam.
BullGuard Spamfilter keeps out junk mail and email scams, like phishing attempts, virus spreading and foreign language spam. You can also customize filters to block emails you don't want to receive.
Safe Browsing. All web sites checked.
Some websites have malicious code hidden in them. Or they are used to launch phishing attacks. The BullGuard protection software checks the websites that come up in your searches and lets you know which ones are safe and cautions you about those that can't be trusted.
PC Tune Up. Keep your PC fast and clean.
You'll never have to wait again to get your computer up and running. BullGuard's PC Tune Up removes unnecessary files to improve your computer's performance and frees up memory so your computer runs faster.
Game On. No interruptions.
Most security software reduce gaming performance and require a special "Game Mode" to be activated while you're playing. BullGuard solves this performance problem intelligently, letting you enjoy gaming at full throttle but still ensuring unparalleled security on all levels.
Vulnerability Scanner. Keep your PC in good health.
Checks your computer for out-dated software that hackers and viruses can exploit to gain access to your system, damage it or steal personal information. Once this software is flagged up it can then be removed.
Support. Free 24/7.
Our support team is here for you 24/7, providing expert advice and quick answers to your questions.
System Requirements:
•
Operating System: Windows 8.1 / Windows 8 / Windows 7 / Windows Vista / Windows XP (SP2 minimum)
•
Hard-drive space: 850 MB
•
Internet Connection: Dial-up minimum
Application languages:
English, Swedish, German, Norwegian, French, Dutch, Spanish, Italian, Danish, Portuguese, Brazilian Portuguese, Chinese